I'm running out of time and yarn. I've been working during all of my free time to finish up the Log Cabin Blanket. Last week, I finished another row of blocks, and even re-knit the block that I think I lost...I was at 57%, and figured I should check out how much more yarn I had.

Well, when I opened up the stash, I was sadly to find that I only had 3 balls of each color left. I don't think that's going to be enough to make my original design: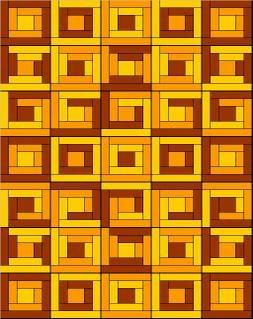 Unfortunately, Elann doesn't carry the yarn that I'm using in the colors I need anymore. I decided that I would make an amended version of the blanket. It's going to be only 5x5, instead of 5x7 as I originally intended. I've come this far, so I have to finish this project. The new version will look like this: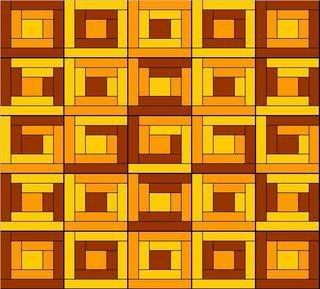 With the quick design change, and another few days of knitting, I'm 84% done with the knitting! With the wedding two weeks away, I feel a lot better with those numbers. My new goal is to have this ready for the happy couple when they return from the honeymoon, some time in late-October.