My BF's sister is getting married in May, and has asked me to be one of her bridesmaids. I graciously said yes, of course. So, since November, I have been waiting to see what style of dress I would be wearing. Finally, last weekend, she picked the dress.

She was in Florida (where the ceremony will be) and went to the bridal store to look for her gown...and, while she was at it, the bridesmaids dresses. She chose them herself, with input from her mom...but, none of the bridesmaids. The price was already reasonable, and they talked the shop into giving us 10% off since the entire wedding party will be shopping there. So, here's the dress: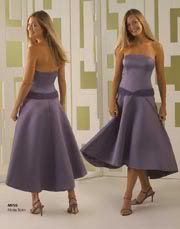 Here's the catch...The color she chose is called
Caribbean Blue
. The wedding and reception are going to be on the beach, and I think I want to make a sweater or wrap that I can put on once the ceremony is over. This is where you come in...I need suggestions (both for color and style). I want something that will show off the dress but still keep me from shivering my butt off once the sun goes down.