I seem to have a bug in my bonnet this month. Or, maybe, this version of a Yarn Diet is really motivating. I've made my way through three of my "1st six of '06"...Yup, I'd like to present my Jaywalkers: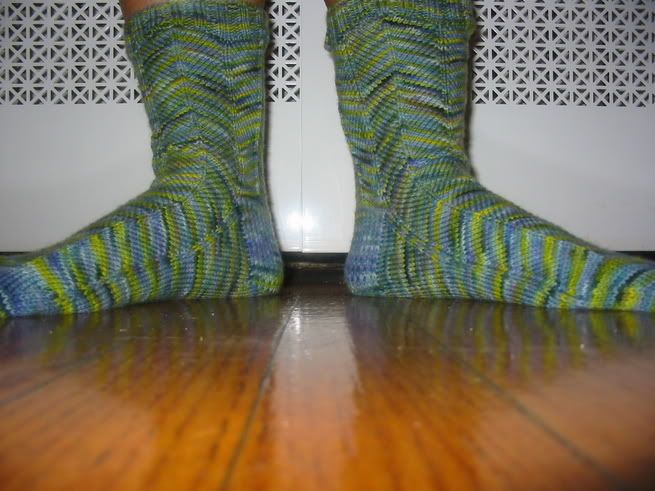 Pattern:
Jaywalker
by
Grumperina
Yarn:
Woolarina
Merino Sock Yarn. I bought this yarn last October at the
Crafty Bastards
Arts and Crafts Fair. Orginally, I thought I would use it to make a scarf.
Needles:
size 2 dpns.
Size:
I started out making the larger size. I tried the sock on once I had finished the heel, and it felt fine. However, once I got a couple of inches into knitting the foot, I could tell that it was going to be much too big...I restarted the smaller size immediately.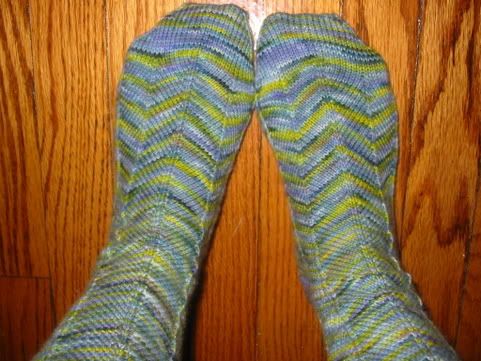 I have fallen in love with this pattern, and already have an itch to knit more socks. It absolutely amazes me that this is the first pair of socks that I knit! I think that I've decided that ribbed socks just aren't for me...Come to think of it, I never buy ribbed socks from stores. Why would I want to knit them?