Lucky made her debut yesterday morning, when I wore her to work! After months of anticipation, everything went over without a hitch. Unfortunately, I wasn't able to get a decent picture of myself before running out the door...For some reason every picture that I took with the auto-timer made me look like a deer caught in headlights. The ones that I took while pointing the camera at myself came out blurry. I was able to snap a decent picture this morning.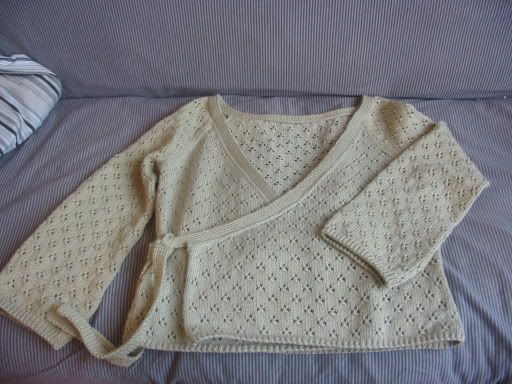 Pattern:
Lucky
from Stitch 'n Bitch Nation
Yarn:
Silk City Perle 3/2 Cotton, color Silver Sage.
Bought
this yarn from Elann a while back, but never figured out what to do with it. I was still on the cone, which meant there were very few ends to weave in once I was done.
Needles:
size 3 (3.0mm)
Size:
I made the size small. Although the size is correct, the sweater is a little boxier than I thought it would be.
I don't want to pass too much judgment about the pattern. I will, however, say that I would not knit another one. In the future, I will think twice about making a sweater that includes any tied neck/waistband. I'm not sure which part was worse, knitting the neckband or sewing it onto the sweater.
I'm pretty happy with the outcome, but it took a lot of effort to finish this piece. And, it looks like I'm done just in time for Spring!