I'm finally ready for my trip to Florida. I finished shopping yesterday. I dropped $30 on the strapless bra, but still had the hardest time finding jewelry. I helped my BF pack last night, even though he wanted to put it off until today...Last, but certainly not least, I have successfully mailed my package/reveal to my Secret Pal.

I'm taking two projects on the plane with me, Toledo and my first sock. Toledo is moving very fast. I cast on Saturday morning, but ended up ripping it 10 rows later when I realized that I had been knitting with size 8 instead of size 6 needles. I started again on Sunday, once I was done with shopping. Since then, I have knit about 8 inches of the front.

I'm also bringing along my first sock. This is what it looked like Friday, before I turned the heel: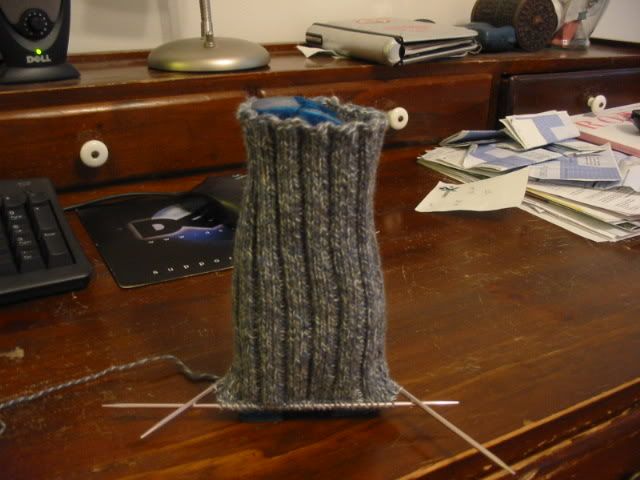 (btw, that's my stapler acting as model)

Since then, I have turned the heel! It was a little bumpy...literally and figuratively. I had to rip out my first attempt 2/3 of the way through because I wasn't sure if I was doing the short row correctly. My second attempt went better, but the two sides look uneven somehow. I'm happy with the way the heel turned out. Sorry, I didn't have time to snap a picture once I finished the heel. I should be able to finish sock #1 on the trip, but I didn't pack the other ball of yarn to start sock #2...I was trying to pack light.